After a week on the West Coast, the White Sox come home to Guaranteed Rate Field to play in front of their fans for the first time since 2019. They just might want to watch what they wish for, because if their play from the first week carries over into the second, they're not going to like the feedback.
The White Sox should be better than 3-4. On the other hand, they nearly blew a 7-1 lead to the Angels in the second game of the season, so they could be worse. However it happened, they're just 1½ games behind the Twins, which is a half-game better than they were through their first week last year.
The amount of games remaining alone says there's no need to overreact, but the White Sox also don't quite deserve to have the dread waved away. Some of the factors fueling the discontent are out of their control, but filter them out, and there's still a lot left for them to tackle.
In a rough order from random to conscious…
THE GAMES WERE LATE.
The White Sox usually head west at some point in the middle of the season, giving fans east of the Mississippi the option of using that week to watch the first few innings before checking out, if they're not already on vacation somewhere and missing games entirely. There was no such option this time, at least among fans who wanted to devote the usual first-week energy to the team.
More than that, the White Sox opened in Anaheim, where the Angels avoid any day games that aren't necessary. Opening Day was Opening Night. Getaway day turned into Sunday Night Baseball. Even the customary off day after Opening Day was filled with a night game because there's no threat of a rainout in Southern California.
There was no easing into this season for anybody in or around the White Sox. The schedule immediately tested your commitment. Beyond that…
THE GAMES WERE LONG.
The White Sox's 4-3 loss to the Angels on Opening Night clocked in at 2 hours and 51 minutes, and no game has come close to clearing that low bar for crispness.
Combined with the late starts, watching this week of baseball felt less like a leisurely choice and more like reporting for the third shift.
When my dog Chief sleeps for an extended period, he rotates between his bed and the floor every 30-60 minutes. As Tuesday's game breached 12:30 a.m. on Wednesday, he got up from his bed, sat down facing my direction, but looking at nothing in particular.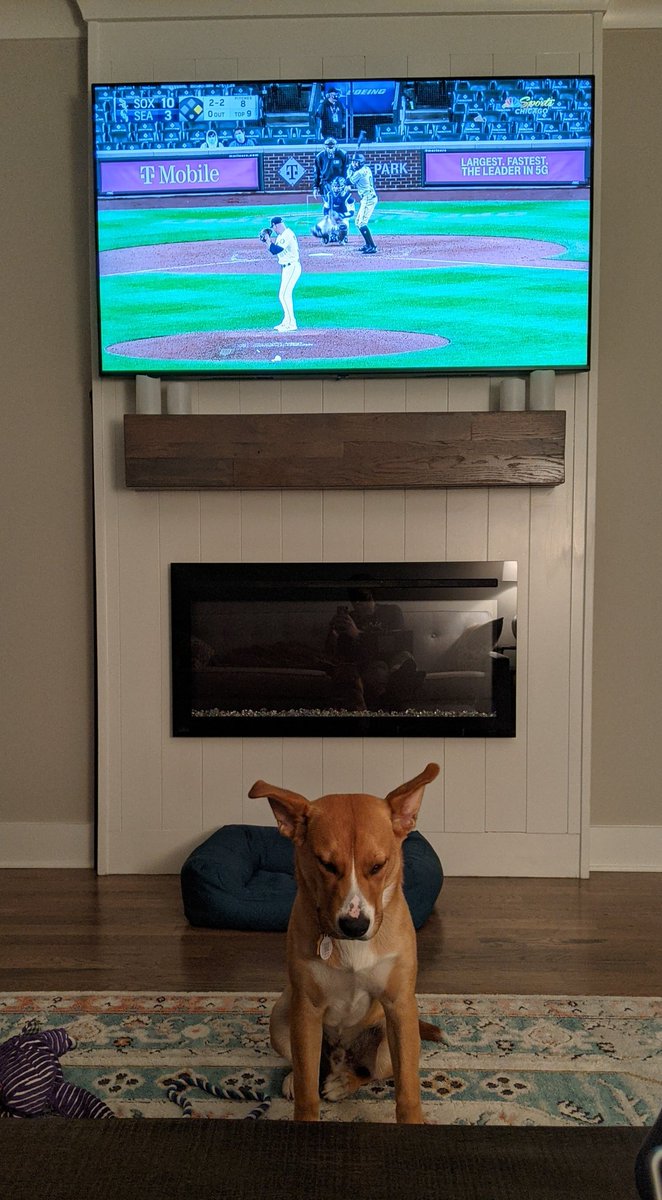 He held this position for about a minute before slumping forward and falling back asleep. I think he just wanted the TV off and lights out, and he probably wasn't alone.
GUYS KEEP STRAINING HAMSTRINGS.
The injury to Eloy Jiménez already cast a pall over the opening of the season, especially since Adam Engel had already preceded him with a hamstring strain that shaved off some of the Sox's outfield depth. Now we have to wait and see whether the surprisingly watchable Billy Hamilton will join them, as he departed Wednesday's game with a hammy issue of his own after stealing third base.
All of this exposes Leury García, who's off to such a miserable start that La Russa used Andrew Vaughn as Hamilton's replacement in left, even though Danny Mendick had joined the team to provide infield depth after Tim Anderson went on the injured list with his own strained hamstring.
THE DEFENSE SUCKED.
The White Sox are tied with the Rangers for the league lead in errors with seven (and it was eight before Major League Baseball turned a José Abreu error into a Shohei Ohtani triple, which it was correct in doing). They've also committed a number of non-error errors, whether it's Nick Madrigal bobbling a double play ball that could have cleared the bases, Andrew Vaughn dropping a fly in the left field corner, or Adam Eaton and Luis Robert colliding in right center.
THE FIRST FIVE INNINGS MAKE THE BULLPEN LOOK ORDINARY.
Relief pitching was supposed to be a strength for the White Sox, especially since Rick Hahn directed the most resources toward improving it over the winter by replacing Alex Colomé with Liam Hendriks. The front office's reward: watching the Sox blow as many eighth-inning leads over the first week as they did all last season. Hendriks has recorded seven outs this season, but only one came in anything resembling high leverage.
Bullpens are volatile units, even after concentrated efforts to fortify them. If Codi Heuer and Matt Foster slump in their sophomore years, that'll happen, but it's an annoying problem to have to solve in front of a live studio audience.
There's also the matter that good bullpens only look great when the rest of the team sets up the final three innings for them. White Sox starters are 0-for-7 in meeting the innings requirement for a quality start, thanks in part to the aforementioned defensive issues running up pitch counts. Michael Kopech and Garrett Crochet have been able to serve as one-man bridges when they enter games, but they're rookies with recent arm issues who need to be eased into action.
Maybe Hendriks and Aaron Bummer should be used earlier, but that's not what anybody had in mind. And while it's easy to slag Tony La Russa for inaction, it's not like Ned Yost, Buck Showalter or Joe Girardi bolstered their reputations by having their closers appear in the sixth inning in April. Unexpected relief flops make even good managers look incompetent, as Girardi's first year in Philadelphia showed.
TONY LA RUSSA HASN'T COVERED HIMSELF IN GLORY.
Even if you don't hold La Russa accountable for poor showings from Heuer, Foster and Evan Marshall, it still hasn't been a great first week. Besides all the on-field mistakes that a detail-oriented spring training should have ironed out, La Russa was too slow in challenging a caught-stealing that could've been overturned, he intentionally walked Albert Pujols to face a better hitter, and then he left Foster to throw 34 pitches over two-thirds of an inning to a Mariners team that was ready for his high fastballs and outer-half changeups.
La Russa admitted that he was too slow to respond to the last crisis:
"We were in an excellent position going into the sixth inning," manager Tony La Russa said. "The best way to explain it is I did a really lousy job managing that inning. It really hurt our chances to win." […]

"He faced too many hitters," said La Russa of Foster, who was eventually replaced by José Ruiz after the critical blows had landed. "That's lousy managing. You saw what he did that one day. Pushed him too far. Stupid, lousy, no excuse."
The accountability is refreshing, but it can also be part of the typical first-month playbook for a new manager. We're already seeing that supposedly focused spring trainings have no real relevancy with regards to April sharpness, but that's been learned in previous administrations. Hell, I also remember that Rick Renteria took responsibility for tactical mistakes early in his tenure, only to blame execution or effort for similar shortcomings afterward.
However it happened, the La Russa White Sox have taken losses in games where they had win probabilities of 74, 75 and 86 percent in the back half. Throw in the Sunday night game the Sox could have stolen, and if what Hawk Harrelson says is true, the White Sox are 0-4 in the 42 games that ultimately separate teams.
NOW WHAT?
As bad as the White Sox looked, you can spin it in a positive direction. Perhaps the Sox are getting their assortment of bizarre losses out of the way early, especially since the starting pitching and some position players have a lot more to give.
You can also warp it in a worse direction — randomly outbursts from unexpected sources like Hamilton, Yermín Mercedes, Zack Collins, and even an encouraging debut from Jake Lamb aren't enough to boost a team in winnable games, what happens if they start fizzling? The White Sox haven't had an ordinary loss, but those are coming, too.
Some of these concerns should fade once Lucas Giolito and Lance Lynn start throwing six innings with regularity, with help from a defense that stops biffing so many easy outs. La Russa hasn't been sharp, but if his middle-inning tactics loom this large, the team has bigger problems. The question is whether those problems are ones fans first-guessed before the season, like the chances of a one-ply roster getting shredded by the grind, or how a shiny new closer matters little for a team that can't get him leads.
Here's hoping we're in the throes of the serial-position effect, where a bad first week only feels dooming because it makes a deeper impression than a bad 14th week. It's just also help if the White Sox weren't so adept at confirming the worst fears. At least they're back in Central time, so they've already crossed one issue off the list.
* * * * * * * * *
SOX MACHINE STORE NOTE
A very limited selection of Sox Machine hoodies are available for $46. The supply won't be replenished until next hoodie season at the earliest, so if you've been on the fence, be proactive. Be the change you wish to see with the White Sox.
(Photo by John Cordes/Icon Sportswire)