Striker's 2022-2023 Offseason Plan
PREAMBLE
I don't like this team. They embarrassed themselves in the playoffs in 2021. They didn't even show up in 2022. I wanted to sell some pieces at the trade deadline since they weren't showing any signs of life (players highest values are at the trade deadline). This rebuilt core isn't going to cut it. But here we are.
The problems I'd try to address:
Defense – White Sox were 28th in MLB in fWAR defense.
Offense – White Sox were 21st in MLB fWAR offense. More specifically, they were 30th in walks. Less walks means less opportunities to score. Were also poor against RHP.
Roster Depth

Of the "non-core" players, only Sheets, Burger and Mendick had > 0 fWAR. Their total fWAR? .8!!!!
They only had 1 player (Montgomery) in the top 100 prospect lists.
Of their "core" hitters, only 3 had over 120 games played and Abreu is a free agent.
The original 2022 rotation consisted of Cease, Giolito, Lynn, Kopech and Keuchel. Keuchel sucked and was let go after 8 starts. Cueto saved Hahn's butt by coming in to pitch 24 games and he did an awesome job. This was a team expecting to compete that gave 8 starts to Keuchel (who everyone knew was worthless), 9 to Velasquez (see Keuchel) and 9 to Davis Martin (who no one heard of until 2022). Not a recipe for success.
Man, writing this makes me furious. Add the fact that Hahn traded three studs to get a head start on the rebuild, get Robert for just cash and have the highest payroll of all time. What a loser. All he had to do was draft and sign 2WAR players and he couldn't even do that. No wonder they cancelled Soxfest.

Since you can't draft more players (and it's just once a year) and you don't have money to spend, the only way to add talent if via trade!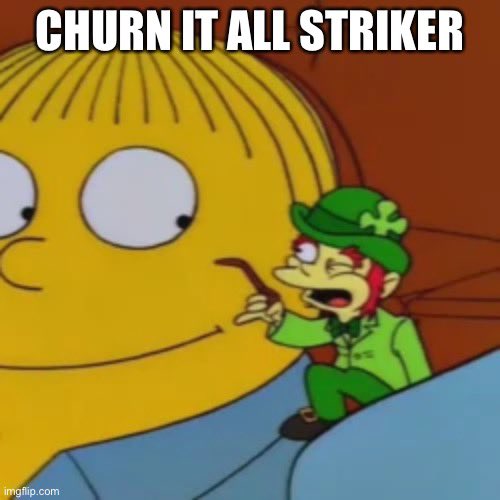 ARBITRATION-ELIGIBLE PLAYERS
Lucas Giolito: $10.8M – Tender
Dylan Cease: $5.3M – Tender
Reynaldo López; $3.3M – Tender
Adam Engel: $2.3M – Non Tender
Michael Kopech: $2.2M – Tender. I'm moving him back to the bullpen. Between his health and his pitch mix, I don't see him making it as a starter.
Kyle Crick: $1.5M – Non Tender
José Ruiz: $1M – Non Tender
Danny Mendick: $1M – Tender
CLUB OPTIONS
Tim Anderson: $12.5M ($1M buyout) – Pick Up
Josh Harrison: $5.625M ($1.5M buyout – Decline
PLAYER OPTIONS
AJ Pollock: $13M ($5 million buyout) — EXERCISED
OTHER IMPENDING FREE AGENTS
José Abreu (Made $18M in 2021) – Bye
Johnny Cueto ($4.2M) – Bye
Vince Velasquez ($3M) – Bye
Elvis Andrus ($14.25M) – Bye
MANAGER
There is only one person right for this job.


Two reasons:
Keep him out of the classroom and away from our youth.
We are on a shirt together (I'm #13).
FREE AGENTS
No. 1: Xander Bogaerts (5 years, $140m). Xander is a stud. He has a player option, which he'll surely opt out of. He is an upgrade at SS defensively (at least from 2022) and offensively (9% walk rate versus 4%). Spotrac values him at 6/$180m, so we'll see if this flies.
No. 2: Carlos Rodon (5 years, $140m). He has probably moved on from his desire to pitch for the Sox, but I'd bring him back for obvious reasons.
TRADES
Now, for the moment you've all been waiting for.
No. 1: Three Team Trade with Pirates and Dodgers.
https://www.baseballtradevalues.com/trades/trade-105986/
White Sox get – Lux & Reynolds
Dodgers get – Anderson, Hendriks and Sanchez (probably costs Rodriguez, Gonzalez or Sosa)
Pirates get – Kath, Miller, Vaughn
Dodgers are probably the least likely to make this move of the three. They might need some more prospect capital back. Maybe Ramos.
For the White Sox, this gives them a LH 2B and switch hitting outfielder. Both walk at like 10% rates and play great defense. Both are pre-arb too, so you shed a lot of salary. Reynolds can play all 3 OF positions. I like Vaughn, but it's gotta hurt a little. Plus we still have Sheets and Burger that can play first. Come and get me Fox!
No. 2: Trade Eloy, Rodriguez and Kelley to the Marlins for Rogers and Wendle. 
https://www.baseballtradevalues.com/trades/trade-106097/
Marlins desperately need a middle of the order bat. Eloy looked REALLY GOOD in the second half, so it's time to sell. Maybe the Marlins don't care that he's injury prone.
Sox shed some salary again and get 4 years of a good starter (4 fWAR in 2021, though not so great in 2022). Sox also get Wendle, who bats LH and can play 3B, SS, 2B. He helps address the depth and defense issues.
**Fun Fact** – I traded Eloy last year too, also to the Marlins. https://soxmachine.com/2021/10/strikers-offseason-plan-4/
No. 3: Trade Giolito to the Mets for Megill and Peterson.
https://www.baseballtradevalues.com/trades/trade-106099/
The Mets would have to be high on Giolito to pull the trigger on this one, still thinking he's a 5 WAR starter. I think he is, especially in his walk year. But unfortunately for him and us, Rick Hahn didn't leave me with roster depth, so I had to pull the trigger.
The Sox get two guys who can both start. Both provide great strikeout rates. One can be the #5 starter, the other a swingman. Jordan will love this move!
SUMMARY
I improved the defense, offense and added depth. I'm also betting on Colas being on the major league roster. Payroll comes out to about $184m, which leaves me $6m to pay KenWo.
| | | | |
| --- | --- | --- | --- |
| Pos | Player | Est Salary | fWAR |
| RF | Reynolds | 0.7 | 5 |
| CF | Robert | 9.5 | 4 |
| SS | Bogarts | 28 | 5 |
| CA | Grandal | 18.25 | 3 |
| 3B | Moncada | 17 | 3 |
| DH | Pollock | 13 | 2 |
| 1B | Burger/Sheets | 0.5 | 2 |
| 2B | Lux | 0.5 | 4 |
| LF | Colas | 0.5 | 2 |
| | | | |
| BN | Wendel | 3 | 2 |
| BN | Zavala | | 1 |
| BN | Mendick | | 1 |
| | | | |
| SP | Cease | 0.7 | 5 |
| SP | Rodon | 28 | 5 |
| SP | Lynn | 18.5 | 4 |
| SP | Rogers | 0.5 | 3 |
| SP | Peterson | 12 | 2 |
| SP | Megill | 0.5 | ` |
| SP | | | |
| | | | |
| CL | Lopez | 6 | 1 |
| RP | Kopech | 2 | 1 |
| RP | Crochet | 0.5 | 1 |
| RP | Kelley | 9 | 0.5 |
| RP | Graveman | 8 | 1 |
| RP | Diekman | 3.5 | 0.5 |
| RP | Bummer | 3.75 | 1 |
| | | | |
| | | | |
| | | | |
| | | | |
| | | 183.9 | 59 |
| | | | 100 |