While I'd made plenty of trips around North Carolina to cover the Knights, Dash and Intimidators in their respective cities, I'd never crossed Birmingham off my list. So I drove three hours down I-65 to complete the set by taking in the Barons' season-opening doubleheader against Biloxi, and now I've completed the set.
(I can't say the same for stadiums until I visit the Cannon Ballers' new downtown digs.)
I'll have a more thorough notebook after I return on Friday, as I'm going to stay for one more game. But one thing I'll point out is that the Barons are playing under new Double-A rules that mandate all infielders to have their feet set on infield dirt. Here's an example: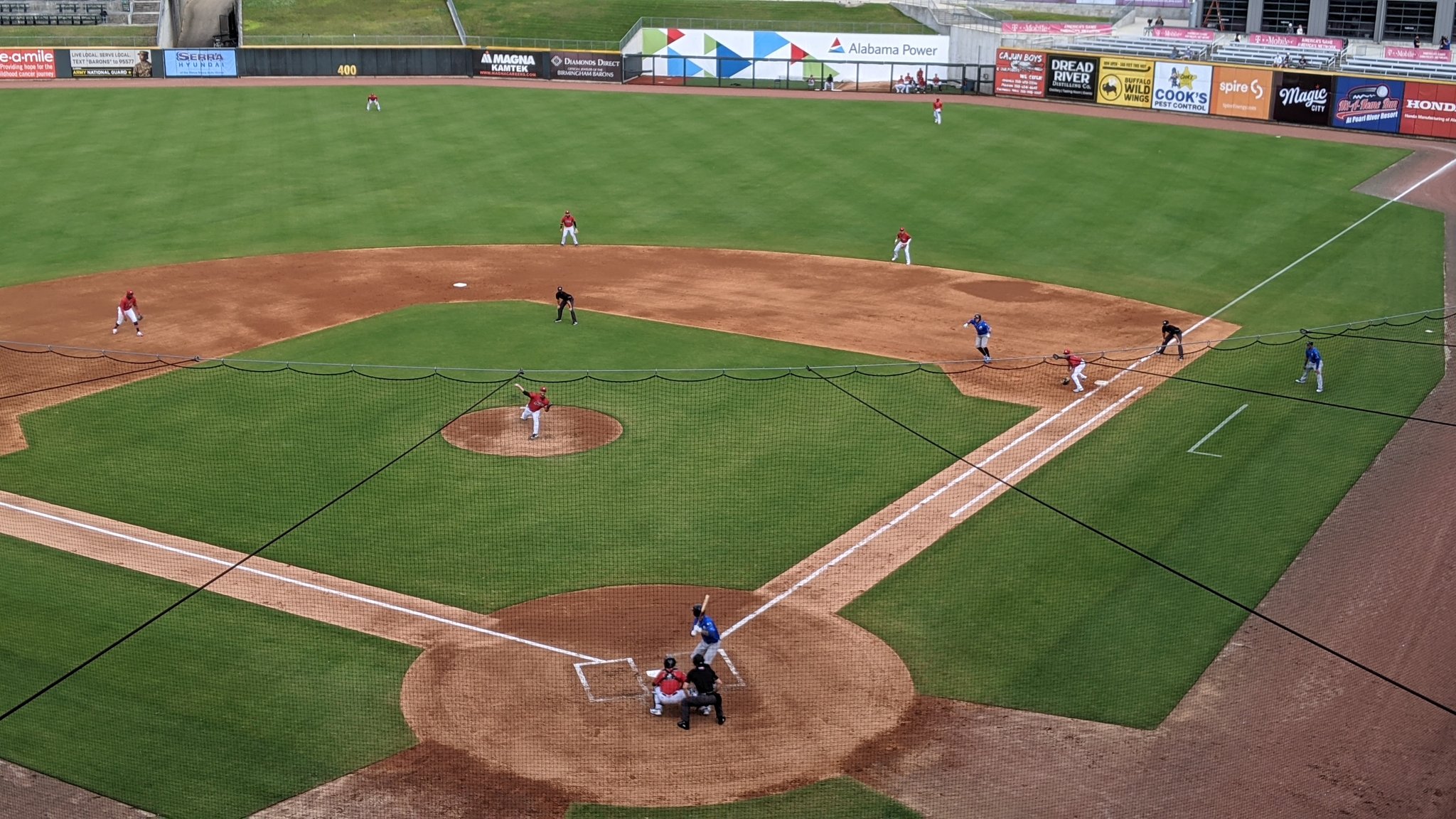 Somebody in the press box mentioned it immediately, so I don't know how long it would've taken me to notice it on my own. That said, once it was brought to my attention, it didn't escape my attention, and it factored into the proceedings a few time.
There was one infield single that would've been a routine play had second baseman JJ Muno been allowed to set up in short right field against a lefty. Instead, he had to make a lengthy sliding stop and couldn't gather himself in time to make an accurate throw. There were also a couple of pop-ups in short right field that a MLB second baseman would have camped under, while a Double-A second baseman had to resort to prayer.
I don't think it made a huge difference, because the two teams combined for 24 strikeouts and just seven hits over seven innings. Eight consecutive Barons struck out at one point, meaning the Shuckers couldn't put all their infielders in the dugout with no ill effect. But in a sample of two games, there were a handful of batted balls made more complicated by shallower infield positioning. Somebody like Gavin Sheets or Blake Rutherford would've loved to see it in Birmingham last year. Somebody like Yasmani Grandal would love to see it in Chicago yesterday.
Blake Rutherford went 2-for-5 with a strikeout.
Gavin Sheets was 3-for-5 with two doubles and a strikeout.
Jonathan Stiever is picking on people his own size: 3 IP, 1 H, 0 R, 1 BB, 4 K.
Micker Adolfo went 0-for-2 with a walk and a strikeout.
Carlos Perez tripled once and struck out twice, neither of which are in his typical box score.
Ti'Quan Forbes went 2-for-3 with a homer.
Micker Adolfo was 0-for-3 with two strikeouts.
Ti'Quan Forbes went 0-for-2 with a K.
Ofreidy Gómez: 3 IP, 0 H, 0 R, 2 BB, 7 K
Duke Ellis walked twice and struck out thrice, and went 1-for-2 on the basepaths.
Bryce Bush went 1-for-4 with a homer, walk and strikeouts.
Lenyn Sosa was 1-for-5 with a K.
Luis Mieses went 0-for-4 with a walk and a strikeout.
Yolbert Sanchez went 3-for-4 with a walk.
Harvin Mendoza went 0-for-3 with two walks and a strikeout.
Luis Curbelo went 2-for-5 with a homer, double and four RBIs.
Highlights:
*Here's Bush's blast:
James Beard hit a grand slam, walked twice, struck out twice and was picked off.
José Rodriguez went 2-for-5 with a double and a strikeout.
Bryan Ramos was 0-for-5 with a strikeout.
Chase Krogman doubled, singled, walked twice and struck out once.
DJ Gladney went 1-for-5 with a double and two strikeouts.
Cabera Weaver doubled, singled and struck out thrice.
Sam Abbott singled, walked twice and struck out twice.
Jared Kelley's pro debut can be scrapped: 0.2 IP, 2 H, 4 R, 2 ER, 2 BB, 2 K, 1 WP, 1 balk. He threw 19 of 35 pitches for strikes.
Highlights:
*Beard's grand slam: