Nick Madrigal's debut looked a lot like what I imagined Nick Madrigal's debut would look like: He handled every defensive opportunity with ease, he hit three ground balls, his speed taketh (forcing an error from Adalberto Mondesi to reach base), but it also gaveth away (Nick Capra sent him home on Alex Gordon's arm to decidedly unsexy results.)
The biggest thing that jumped out to me, watching him from MLB ballpark cameras for the first time in a situation that counts, is how far inside the line he runs on grounders to the left side.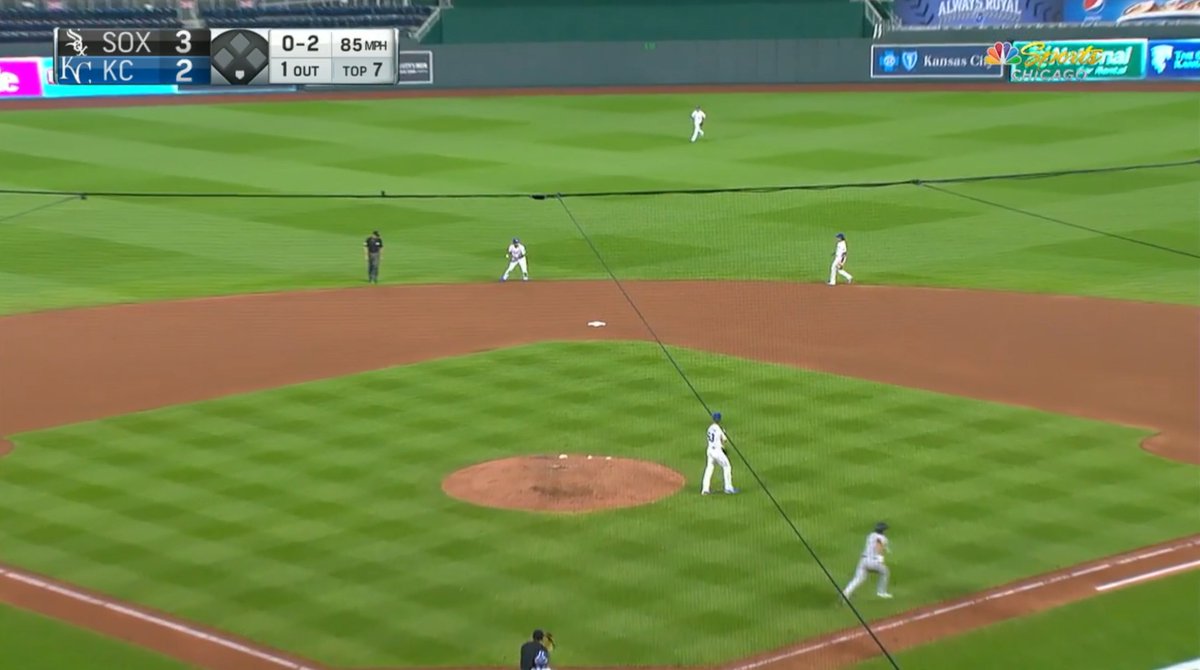 I'm guessing a catcher is going to hit him between the numbers for an easy out at some point during his 18-year MLB career. Fortunately, he's a small target.
* * * * * * * * *
Rick Renteria shared a story about Madrigal that's only strange because of the times in which we live:
But if the No. 4 White Sox prospect, per MLB Pipeline, had his way, he would have broken camp with the team on July 24. In fact, when manager Rick Renteria told Madrigal he would be starting at the team's Schaumburg, Ill., alternative training site, Madrigal didn't shake hands with Renteria, and it had nothing to do with social distancing. He simply turned around and walked out.

Renteria smiled when recounting that story Friday, chalking it up to the competitive edge Madrigal brings to the White Sox. And Madrigal quickly put behind him the ire of not being part of the roster from the outset.
"It had nothing to do with social distancing…" But maybe it should?
After all, Rob Manfred sent out a warning to the MLBPA on Friday saying the season could be halted if teams don't do a better job of policing themselves.
Major League Baseball commissioner Rob Manfred told MLB Players Association executive director Tony Clark on Friday that if the sport doesn't do a better job of managing the coronavirus, it could shut down for the season, sources familiar with the conversation told ESPN. […]

Should another outbreak materialize, Manfred, who has the power to shut down the season, could move in that direction. Multiple players briefed on the call fear the season could be shut down as soon as Monday if positive tests jump or if players continue not to strictly abide by the league's protocols.
You can attack the messenger and say the league is relying an impossible amount on impeccable personal responsibility, and even that might not matter when so much travel is involved. But I think it's Manfred's job to issue stern directives after a team like the Marlins violates protocols and goes out in Atlanta, in the hopes that the threat permeates and forces teams to assess their vigilance elsewhere.
Take this scene from after Friday night's White Sox winner over the Royals:
Zack Collins was wearing a mask on the previous installment of this series, so it's not like he's a monster. But it's clear in watching games that old habits are routing new habits, and the video above shows that it's a problem that requires strong actions from above (why do clubhouses still exist?) and below (maskless dancing? seriously?).
Whatever his motives, Manfred is correct that everybody needs to take this more seriously in order to have a chance, because when 100 percent adherence to the 113-page guidebook may not prevent the spread, anything less is courting disaster. It may not seem like a big deal when you see Collins dancing without a mask for several seconds, or Don Cooper pulling down his mask to talk to the guy next to him. However, when you watch a game on the couch alongside a microbiologist/epidemiologist like I have been over the last few weeks, you become more aware of all these isolated actions, which are potential exposures. And when you count all such slip-ups, you can see how transmission is occurring.
Now let's see what happens with the Cardinals.
Keith Olbermann says MLB has told its TV partners to have alternate broadcasting plans at the ready as early as Monday. To circle back to Madrigal, this all makes his debut much more significant, even though he went hitless. If the league can't continue beyond this week, the White Sox would've had the opportunity to game his service time in 2021. He probably wouldn't have shaken anybody's hand then either, even if it were allowed.
(Photo by William Purnell/Icon Sportswire)